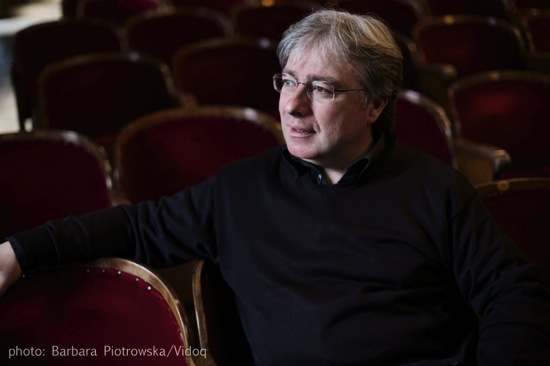 Michele Santorsola

Born in Isernia (Italy) in 1965, the italian conductor Michele Santorsola has made, at still an early stage of his carreer, several television and radio recordings for RAI Italian Radio Television, Radio Vaticano, Hellenic Radio-Television, PIK (Cyprus), Bulgarian National Radio-Television, Macedonian Radio-Television, Mexican Radio Television, Sky Television and Switzerland Television, as well as CD and DVD productions for Edipan, Warner Chappell Music, Falcon Vision Hungary Production, Phoenix Classic, EMI Classic and Ducale of baroque and contemporary music.

Coming from an unusual background, pupil of the famous italian oboist Bruno Incagnoli and of Rocco Filippini for chamber music, Michele Santorsola was for many years first solo oboe of the Cyprus State Symphony Orchestra and oboe professor at the italian conservatoires (Milan, Venice, Turin, …), then he completed his conducting studies in Milan with M° Julius Kalmar at the "Hans Swarovsky" Academy. He has toured in Belgium, Japan, Switzerland, Finland, Republic of Macedonia, Greece, Bulgaria, Cyprus, Spain, Mexico, Romania, New Zealand, Hungary, Austria, Germany, Poland, Turkey, Serbia and United States.

Since then, long has been the list of engagements as Guest Conductor: "George Enescu" National Philharmonic Orchestra, Orchestra Sinfonica Siciliana, Orquesta Sinfonica de Cordoba, MAV Symphony Orchestra of Budapest, Sofia Philharmonic Orchestra, Wiener International Orchestra, RTV – Bulgarian National Symphony Orchestra, Riga Philharmonic Orchestra, Vilnius Philharmonic Orchestra, Orquesta Sinfonica del Estado de Mexico, Arts Chamber Orchestra – Obihiro/Japan, FVG Mitteleuropa Symphony Orchestra, Kiev Chamber Orchestra, Radom Chamber Orchestra, Orquesta Sinfonica de Aguascalientes, Orquesta Sinfonica de Guanajuato OSUG, Macedonian Philharmonic Orchestra, Karkov Philharmonic Orchestra, The South Pacific Symphony, Dniepropetrovsk Philharmonic Orchestra, I Solisti di Venezia, Iasi Philharmonic Orchestra, Camerata Barocca, Timisoara Philharmonic Orchestra, Orquesta Sinfonica de Monterrey UANL, Venus Chamber Orchestra, Ploiesti Philharmonic Orchestra, Adana Symphony Orchestra, Ensemble Accademico Italiano, Camerata Ducale di Parma, Orchestra da Camera di Messina, Nis Chamber Orchestra, Plovdiv Philharmonic Orchestra, Moldova Symphony Orchestra, Cadiz Chamber Orchestra, Orchestra da Camera delle Marche, Clark Symphony Orchestra, Craiova Philharmonic Orchestra, Bacau Philharmonic Orchestra, Orchestra "I Cameristi di Roma", Arezzo Symphony Orchestra, Camerata Romania, Cyprus State Symphony Orchestra, Sofia Symphony Orchestra, Italian Chamber Orchestra, Catanzaro Symphony Orchestra, Grosseto Symphony Orchestra, I Solisti di Napoli, Ensemble dell'Accademia Filarmonica di Bologna, Brasov Philharmonic Orchestra, I Solisti di Perugia, Szeged Symphony Orchestra, Orchestra Sinfonica della Provincia di Catanzaro, Orchestra della Regione Valle D'Aosta.

Since 1994 he has held the position of Principal Conductor and Artistic Director of the Orchestra da Camera e Sinfonica "Daniele Paris" in Rome , with which he has carried out an intense activity both as conductor and as soloist ; the same orchestra was chosen to accompaign the final round of the "Rome International Piano Competition" – 1997, "Scriabin International Piano Competition" – 2003 and 2011.

In 1993 he was nominated Music Director of the opera project "Nella Terra di Verdi" and also Assistant Conductor of the Laboratorio Lirico Sinfonico of Parma. Santorsola was Permanent Conductor for the season 1999-2000 of the Macedonian Philharmonic Orchestra, Skopje - FYROM. For the season 2002-2003 he was Principal Conductor of the Craiova Philharmonic Orchestra in Romania. Since 2003 he started his relationship with Iasi Philharmonic Orchestra – Romania as a Principal Guest Conductor, being appointed Chef Conductor in December 2007 untill December 2010.
Michele is an appreciated Artistic Director of various Italian Festivals too.
Since 2005 is Artistic Director of the "Monteroduni Città della Musica" Foundation and from April 2007 Artistic Director of "Fernando Gambacurta" Music Foundation and the LCE LazioCulturaEventi.

Maestro Santorsola conducted in renowned halls like "Sibelius" Akademins Konserserie in Helsinky, "Felipe Villanueva" Hall in Toluca – Mexico, "San Benito Abad" Theatre in Mexico City, Teatro Principal in Guanajuato, "Mediterraneo" Theatre in Napoli, "Politeama" Theatre in Palermo, "Olimpico" Theatre in Roma, Anfiteatro in Siracusa, "Comunale" Theatre in Modena, "Bibiena" Theatre in Mantova, Wien Altes Rathaus in Vienna, Ateneul Roman in Bucarest, together with world famous soloists such as Gerard Poulet, Cyprien Katsaris, Florin Paul, Katia Ricciarelli, Rocco Filippini, Nick Daniels, Vladimir Ashkenazy, Henrik Chaim Goldschmidt, Rodolfo Bonucci, Radu Aldulescu, Victoria Milanova, Martino Tirimo, Carla Trynchuk, Giuseppe La Licata, Frederick Laroque, Florin Croitoru, Cristina Anghelescu, Irina Iordachescu, Domenico Nordio, Stefan Metz, Nina Tichmann, George Moench, Massimo Felici, Massimo Mercelli, Adriano del Sal, Tamara Alexeeva, Federica Proietti, Riccardo Zanellato, Roberto Trainini, Alina Komissarova, Kristian Koev, Piotr Plawner, Gabriella Tucci, Kamen Chanev, Roberto Plano, Huseyin Sermet, Massimo Nosetti, etc.

His discography includes first world recording of mainly Italian contemporary compositions but also from the mediterranan area by G. Santorsola (concerto for 4 violins and strings), G. Tagliapietra (Fantasia for piano and strings), A. D'Antò (2° Concerto for string orchestra), C. Rastelli (Lemme for piano and orchestra), S. Michaelides (In Memoriam e Two Bizantine Sketches), S. Serghi (Ikon), C. Stylianou (Efialtis), P. Dymiotis (Suite).
His latest CD release, - G. F. Malipiero: Complete Piano Concertos - was highly acclaimed by the most renowned CD magazines, confirming his prestige in the field of italian music both operatic and symphonic.
Currently he holds too a position as main Oboe professor at Vibo Valentia Conservatory in Italy.